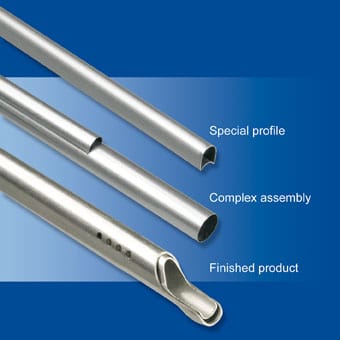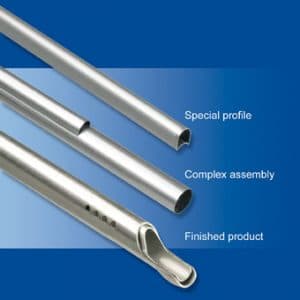 Specialized in:
Rigid endoscopes: large choice of superalloys for urology, arthroscopy, laparoscopy…
Flexible endoscopes: tubing for articulation joints
All other material for tubular components: AISI 304, AISI 316, Monel
Minitubes advantages:
In-house tubing and component production
A choice of PH grade materials: MP35N, Phynox, 17.7
Very strong mechanical properties, UTS up to 2000 Mpa
High dimensional accuracy
Round, oval, square, stepped tubing
End forming, polishing, assemblY
At your service:
From single components to complex assemblies
From the design step to serial production
Eager to develop new processes to meet your technical and ramp-up requirements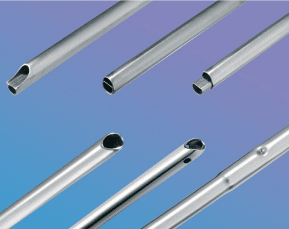 Minitubes, from the design stage to final assembly:
We will work with you to develop your endoscope design: our experience in problem solving is available to meet your specific technical challenges.
Express prototyping: quick turnaround at the design stage. To quickly test your ideas, our dedicated team will produce your prototypes, with in-house tubing production, CNC component machining, fabrication and assembly.
Fully integrated tubing production, to control the key parameters, such as surface finish, dimensional accuracy and material for small and larger quantities.
Choice of materials, because stainless steel is not always the best answer to your requirements for corrosion resistance, strength, magnetism.
Special alloys designed for thin wall but very stiff tubing.
Various geometries, optimized for your specific use: multichannel, side hole…
A variety of fabrication processes: Swiss turning, bending, swaging, flattening, drilling, EDM cutting or machining, punching…
Surface control: buffing, electropolishing, passivation, coatings…
A variety of assembling techniques: welding, laser, plasma, TIG, brazing / soldering / glueing / crimping…
Quality assurance at its best: ISO 9001-2015 and ISO 13485-2016.