Does your application need precision metal tubing ?
We can provide a custom-made solution.
Diameters from 0.10 to 35 mm, thick or thin walls and more than 100 alloys available: we offer tubes or tubular components for the most demanding industries.
Minitubes has developped a very wide range of techniques to bring you innovative solutions from the design stage to prototyping and series production: stent tubing, diagnostic probes, hypotubes, surgical instruments, valves, pacing components …
Stents, cardiac valves, electrodes, orthopedics, filters
Very smooth ID and OD for optimized electropolishing and subsequent coating
An extreme selectivity in raw materials for biocompatibility and micro/macro material homogeneity.
Seamless tube for improved fatigue resistance.
Optimized grain size to compromise between fatigue resistance and electropolishing performance.
Full certification for easy customer's device registration.
Materials
Stainless steel and 316 LVM
Exceeds the standards requirements, notably for inclusions.
A 316 LVM stock of more than 200 references, immediately available.
Cobalt based alloys with strong mechanical properties
L605 ®- Alloy 25 ®- Alacrite XSH ® = Co-Cr-W-Ni-Fe. The Tungsten reinforces the radio-opacity.

MP35N ® = Co-Ni-Cr-Mo, combines high mechanical properties and a good ductility at the annealed state.

Elgiloy ®- Phynox ® = Co-Cr-Ni-Mo-Fe. Very high Yield point. A long implants history.
Tantalum
Very good radio-opacity, MRI compatible.
SMALL QUANTITIES UPON REQUEST :
Implant tubing stock list
Precious metals and their alloys
Gold, platinum, platinum iridium alloys, combine radio-opacity and electric conductivity.
Leading products: stents tubing today
Stents and cardiac valves are vascular implants manufactured from a laser cut tube. Technical and quality requirements on the tube are extremely demanding.
The quality of our implant tubing enables us to supply the world's largest stent producers. Minitubes offers a unique quality, specific to stents, in several alloys such as 316LVM and cobalt alloys.
Stent designers face difficult challenges. At Minitubes, we have succeeded in understanding them in depth, in order to offer a tubing quality that meets the highest demands:
a choice of alloys for both balloon inflatable and self-expendable designs.
an extreme selectivity in raw materials for biocompatibility and micro/macro material homogeneity.
seamless tube for improved fatigue resistance.
new limits in dimensional accuracy on Outer Diameter and Wall Thickness for improved laser cutting and struts dimensions consistency.
very smooth ID and OD for optimized electropolishing and subsequent coating.
controlled mechanical properties for controlled physical behavior and minimized recoil.
optimized grain size to compromise between fatigue resistance and electropolishing performance.
controlled straightness for accurate laser cutting.
proven inspection methods (high-end instruments, adequate sampling, statistical analysis…) for reliable characterization and improved yield of customer's production.
full certification for easy customer's device registration.
Our team is available to assist you in your device development and material selection with technical expertise and large inventory of stock items.
Numerous dimensions in stock for R&D purposes: implant tubing stock list
HEART VALVE TUBING
With 15+ years of experience in heart valve tubing, MINITUBES offers the perfect tubing solution for your balloon expandable valve development.
Full valve size range : 19mm – 35mm
Straightness ≤ 2mm/m for consistant laser cutting
Tight control over OD +/-0.05mm for easy processing
Proven implantable CoCr grade *MP35N for biocompatibility & Cleanliness. Other raw materials on demand.
Consistent WT +/-0.02mm for uniform behavior
Controlled mechanical properties for homogeneous crimping and deployment
Smooth OD & ID surface Ra < 0.2µm for device finishing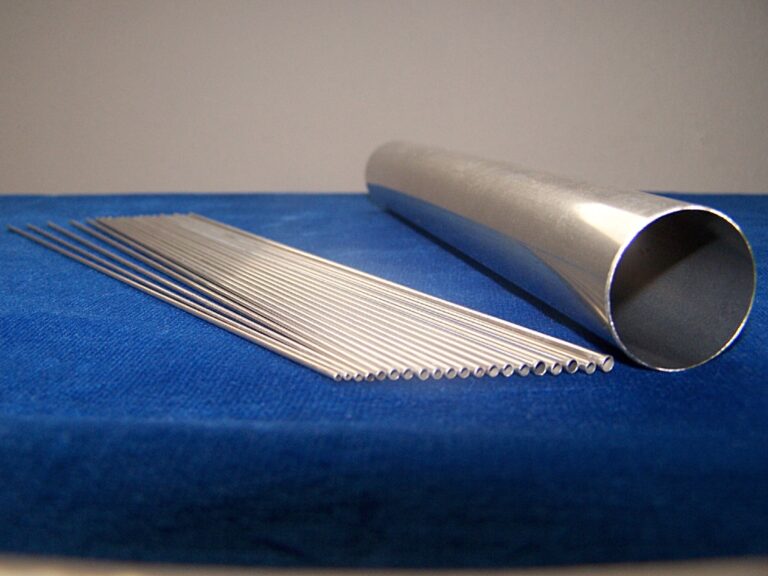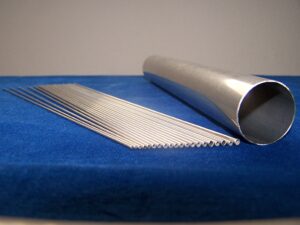 Tubing is the heart of your device, select it with care.
Worldwide support and deliveries
Supporting your development from Prototypes to Commercial volumes
Robust inspection and formal certification
Dedicated Raw Material inventory for long procurement time mitigation
Prototype to custom size and properties within 4 weeks
Stock tubing available within 1 week – Most common sizes available
Contractual requirements applicable to our THV tubing are defined in the standard specification CDC-05975 (available on our website).
Need for tubes with unique properties for your delivery devices? Contact us, we have solutions!
LIFE SCIENCES
In Vitro Diagnostic probes: with our unique experience and control of tube surface finish, we can solve problems of contamination, heating, level sensing, septum piercing, etc.

Endoscopes, the use of remarkable materials optimizes the properties: Cobalt alloys for stiff endoscopes.
IVD
Please visit our IVD-dedicated web site: minitubes-usa.com.
ENDOSCOPY

Specialized in:
Rigid endoscopes: large choice of superalloys for urology, arthroscopy, laparoscopy…
Flexible endoscopes: tubing for articulation joints
All other material for tubular components: AISI 304, AISI 316, Monel
Minitubes advantages:
In-house tubing and component production
A choice of PH grade materials: MP35N, Phynox, 17.7
Very strong mechanical properties, UTS up to 2000 Mpa
High dimensional accuracy
Round, oval, square, stepped tubing
End forming, polishing, assemblY
At your service:
From single components to complex assemblies
From the design step to serial production
Eager to develop new processes to meet your technical and ramp-up requirements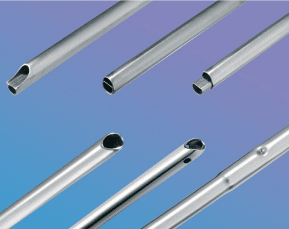 Minitubes, from the design stage to final assembly:
We will work with you to develop your endoscope design: our experience in problem solving is available to meet your specific technical challenges.
Express prototyping: quick turnaround at the design stage. To quickly test your ideas, our dedicated team will produce your prototypes, with in-house tubing production, CNC component machining, fabrication and assembly.
Fully integrated tubing production, to control the key parameters, such as surface finish, dimensional accuracy and material for small and larger quantities.
Choice of materials, because stainless steel is not always the best answer to your requirements for corrosion resistance, strength, magnetism.
Special alloys designed for thin wall but very stiff tubing.
Various geometries, optimized for your specific use: multichannel, side hole…
A variety of fabrication processes: Swiss turning, bending, swaging, flattening, drilling, EDM cutting or machining, punching…
Surface control: buffing, electropolishing, passivation, coatings…
A variety of assembling techniques: welding, laser, plasma, TIG, brazing / soldering / glueing / crimping…
Quality assurance at its best: ISO 9001-2015 and ISO 13485-2016.
Contact the IVD/Chromatography manager.
INDUSTRIAL TECHNOLOGIES
Tubes and parts for other medical applications (i.e. neuro, CRM), and aeronautics, defense & space, automotive, electronics, watchmaking.